Guided By Voices, Live Tapes or Videos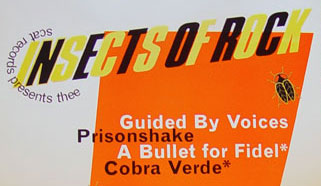 Two Guided By Voices shows – here's what I know for sure one is from the Khyber – the second is from New York.
The dates I have on the tape are June 23rd 1994 for Khyber and June 24, 1994 for New York. According to the GBV database and this flyer the New York show was on June 24th. According to Marc (thanks for the song titles as well): second NYC on is def Threadwaxing 1994.06.24: there is a Threadwaxing comp that features 'Scientist' and it's the same version as he gives a little verbal intro that matches.
If you haven't picked it up yet – go buy the New GBV album.
Audio files – Khyber Philadelphia 6-23-1994
01 A Salty Salute
02 Echoes Myron
03 Closer You Are
04 Non-Absorbing _ My Valuable Hunting Knife _ God Star For Robot Boy
05 Striped White Jets _ Shocker In Gloomtown
06 Drinker's Peace _ Break Even.
07 Goldheart Mountaintop Queen Directory
08 Postal Blowfish
09 Motor Away
10 Blimps Go 90.
11 Pimple Zoo
12 Quality of Armor
13 water rant _ I Am A Scientist
14 Tractor Rape Chain.
15 Cruise.wav
16 Unleashed! The Large Hearted Boy
Audio files – New York 6-24?-1994
01 Echoes Myron
02 My Valuable Hunting Knife / Non-Absorbing
03 Gold Star for Robot Boy
04 Striped White Jets / Shocker in Gloomtown
05 14 Cheerleader Coldfront
06 Motor Away
07 Blimps Go 90
08 My Impression Now_Some Drilling Implied
09 I Am A Scientist
10 Closer You Are
11 Postal Blowfish
12 Drinker's Peace
13 Break Even / Gold Heart Mountaintop Queen Directory
Guided By Voices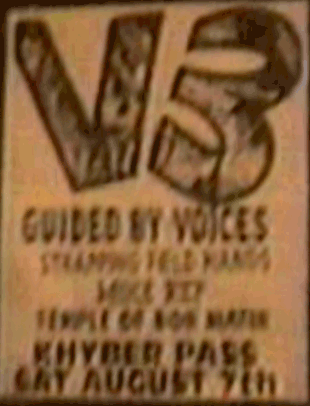 Video from the first Guided By Voices show in Philadelphia. It was a Siltbreeze night at the Khyber with Temple of Bon Matin, Strapping Field Hands, Mike Rep, GBV and headlining was V3. I'll put up the video from the other bands as I get it done. GBV along with Pavement where the two bands from the early 90's that I thought had a really unique sound that I was really into.
From Wikipedia – New York City and Philadelphia were host to Guided by Voices' return to the live stage (and first shows outside of Ohio) in 1993. At this time, the always-fluid Guided by Voices lineup coalesced around the core of Pollard, guitarists Tobin Sprout and Mitch Mitchell (not to be confused with Jimi Hendrix's drummer), bassist Dan Toohey, and drummer Kevin Fennell. Sprout, who was briefly featured in an early-'80s
version of the band, had re-joined circa Propeller and soon became Pollard's primary musical foil, in addition to contributing several of his own songs to the band's catalog.
The video was shot by Rich – Thanks to Mark Lux for the tape.
Audio files
01 – On The Tundra
02 – My Impression Now
03 – Unleashed! The Large-Hearted Boy
04 – Shocker In Gloomtown
05 – Expecting Brainchild
06 – Break Even
07 – Queen Of Cans And Jars
08 – Postal Blowfish
09 – Stabbing A Star
10 – Weed King
11 – Lethargy
12 – Tractor Rape Chain
13 – Non-Absorbing
14 – Some Drilling Implied
15 – Exit Flagger