Dead Kennedys, Live Tapes or Videos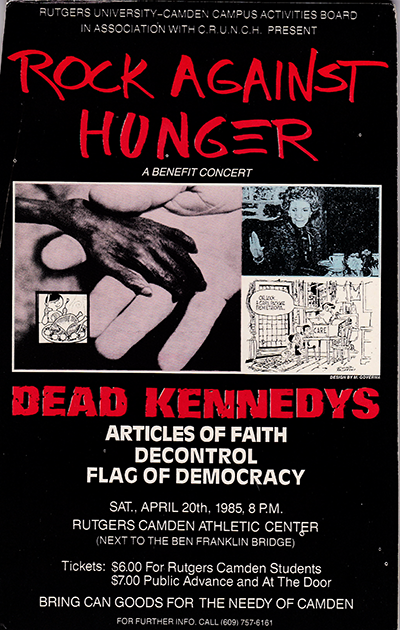 Crunch Productions show with the Dead Kennedys from Rutgers Camden on April 20, 1985. Another show from within a year of my moving to Philly but at least I got to see them later at Blue Horizon. What a great lineup this show had – opening for the Dk's was Articles of Faith, COC, Decontrol & FOD. At the time the largest independent punk show in the area Rutgers put the total attendance at 3,100.
Really Huge THANKS to Lenny Crunch for letting me transfer this video and put it up.
Audio files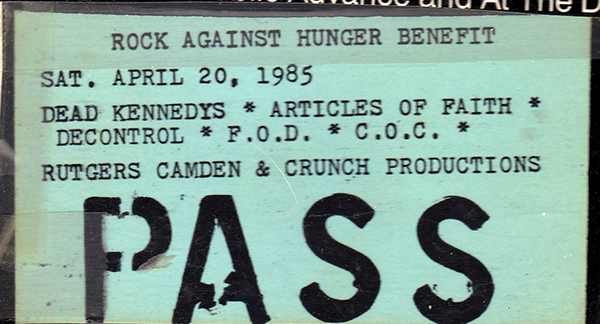 01 – Intro
02 – Take This Job And Shove It
03 – Hellnation
04 – Hop With The Jet Set
05 – Terminal Preppy
06 – When You Get Drafted
07 – This Could Be Anywhere
08 – Soup Is Good Food
09 – Chemical Warfare
10 – MTV Get Off The Air
12 – Let's Lynch The Landlord
13 – Goons Of Hazard
14 – Jockorama
15 – Kill The Poor
16 – Chicken Farm
17 – California Uber Alies
18 – Rawhide
19 – Macho Insecurity
20 – Bleed For Me
21 – Witty Stage Banter
22 – Lie Detector
23 – Moon Over Marin