Articles Of Faith, Live Tapes or Videos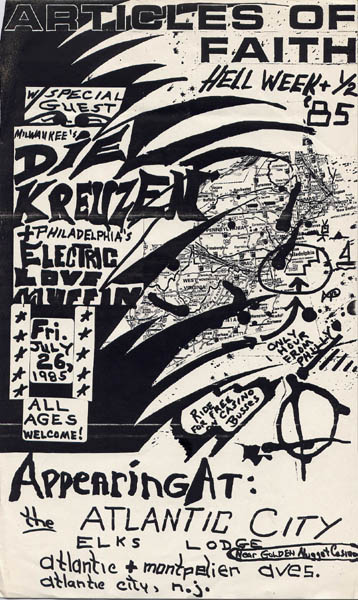 Articles of Faith Live video from the Elk's Lodge in Atlantic City on July 26, 1985. They headlined the show with Die Kreuzen and Electric Love Muffin opening. Wide range of songs from Up Against the Wall from the Peace Comp through Give Thanks and In This Life. I would guess this is probably there last tour since they broke up in 85. Articles of Faith are one of my favorite Chicago bands. Musically they had a unique sound and the lyrics were always great both the political stuff and they more personal In This Life lyrics. Hard to say because In This Life didn't actually get released until 86 (two years after it was recorded) but I bet that album was a big influence on DC Revolution Summer bands like Rites Of Spring & Grey Matter. They recently got back together for a show at the Riot festival in Chicago. There is some video of the reunion on Youtube or on the I have A Brain in My Ass Blog. They also released a 7″ of new songs called New Normal Catastrophe which you can get here Plus Alternative Tentacles put out 2 collection cd's which pretty much includes everything they recorded. There page on the Alternative Tentacles site is here (then select AOF from the dropdown) Below the videos are audio files taken from the video.
Thanks again to Pete at Sounds of Tomorrow for the beta tapes and Crunch Productions for the amazing shows.
Audio files
01 – Wheedle Dee & I've Got Mine
02 – Acceptance & Doesn't Have To Be That Way & I Objectify & In Your Suit
03 – In This Life
04 – Nowhere
05 – Up Against The Wall
06 – Trains
07 – Give Thanks
08 – American Dreams
09 – Everyman For Himself
10 – Five O' Clock
11 – Cambridge & False Security
12 – In This Jungle & What We Want Is Free
13 – Substitute