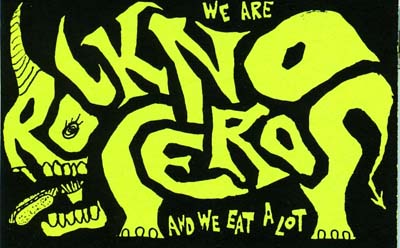 This is the second band that I have been sent music by a member to put up on this blog. Which I am very happy to do so if any other Philly bands want to be on email me. Here is the info on Rocknoceros.
The band:
Deb – Vocals, is now an artist in St. Louis
Rachel – Backing vocals, is now an artist in Australia
Chris – Drums and backing vocals, is now an artist in NYC and was in The Hunks and Scarpetta after he moved to NYC.
Dan – Guitar, also played in Double Penetration, Cactus Love, The Sinners, and The Illegitimate Sons and Daughters
Tom – Guitar & Bass, also played in Jack Lord's Hair and Mud Pie and now plays in Mud Pie Sun
Let's see..there was the story of our tape being mastered. We had recorded it in Tom's west Phillly basement on a 4 track and sent it to Valley Forge Music for mastering and reproduction. When we didn't like the dolby they put on it, the president of the company decided he would master it himself. He took one listen and sent the tape back to us saying it was obscene and that he did not want our business! He refused to reproduce it! We were banned!
Tom came to me one day and said "wanna be in a band? i want to put a band together that's like the punk version of Kiss". So we always dressed up in crazy outfits. Tom had some sort of lion suit (or something like that!). We played a lot of parties (Funk Dungeon, Rodman St. block party etc…) When we played at Khyber the 1st time, Debbie Katon (our singer) wore this home made bullet bra contraption, like the one Madonna made famous but it was before Madonna did it!
We played at the Fairmount Prison Block party. Mega Jimmy drove us there and when we got there it was full of kids and grandmas and family types. We convinced Deb that we should still play. At one point, a tween girl came up to the stage and yelled at us "CAN YOU TURN DOWN, YOU'RE GIVING EVERYONE A HEADACHE!" There was one teenage boy that loved us though, so it was worth it.
Not much else to say. It was my favorite band that I've been in and a lot of fun. I still think that the songs were good. – From Dan
Deb and Chris were art students at PCA so they might have gotten class credit for making Rocknoceros outfits. I remember going to a theatrical costume shop in Philly that had these sales where you could fill a bag with old costumes for five dollars. Dan found a sort of colonial minuteman coat, and I found a leopard suit with the ass torn out and some red lamé fabric that I made pants out of. And I spray painted a pair of platform shoes bright yellow that I nearly broke an ankle on. Chris dressed in total whacked-out drag and even somehow made huge and scary strap-on female genitalia that looked hilarious when he sat down at the drums and hiked up his skirt. – From Tom
Audio files
01 No One
02 Big Cats
03 Sam the Man from Mars
04 Swimming Man
05 Big Balls
06 Zero
07 My Hero Zero
08 Second Skin
09 Start It All Over Again
10 Rocknoceros Theme
11 Call of the Rockno
MediaFire Zip
Decontrol, Live Tapes or Videos, Philly bands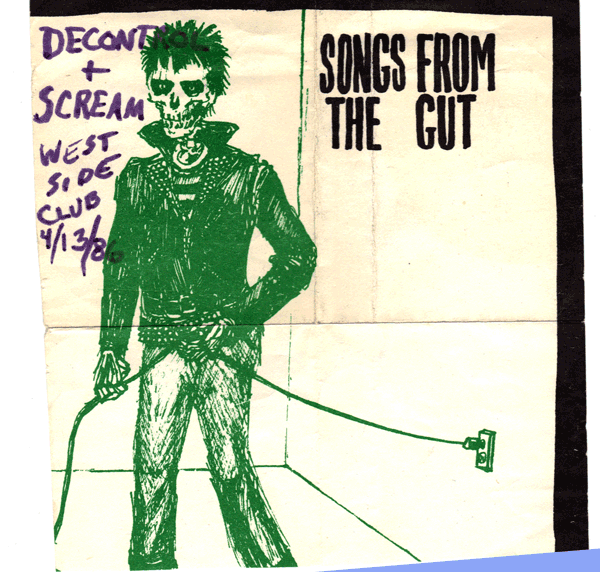 Decontrol live video from the West Side Club. They opened for Scream which is also up on the site. This is the last of the Decontrol video and the last of the 80's Philly bands video that I got from Pete. One last plug if you haven't yet go download Songs from the Gut The Complete Collection.
Also, if your on Facebook go to their page and "like" the page
Below the videos are the audio tracks. As usual there were a couple of songs I wasn't sure of the titles but hopefully I'll get some help again and I'll update the post.
Thanks again to Pete at Sounds of Tomorrow. for the beta tapes
Audio files
01 – I Got A Right
02 – 1992
03 – ?
04 – Never Again
05 – Born Too Late
06 – System
07 – Joe Blow
08 – Drunk And Bored
09 – Did You No Wrong
10 – Born To Be Wild
11 – Back From The Grave
12 – Almost Dead
13 – 1992
14 – Fascists
15 – Unseen Enemies
16 – Philly Cops
17 – ?