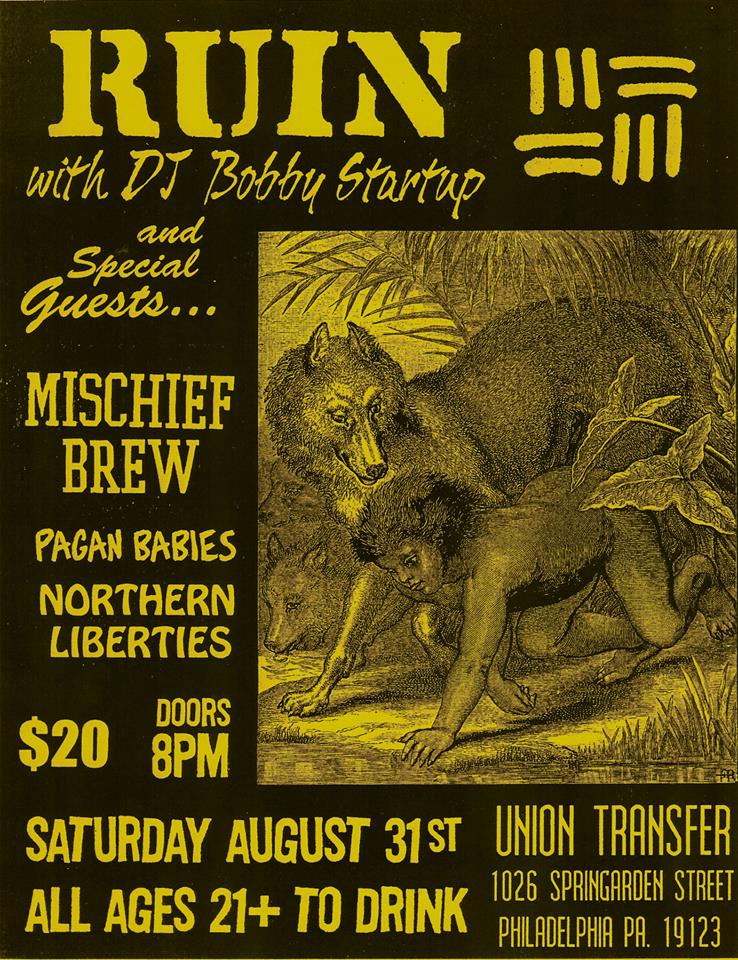 RUIN… WILL BE PERFORMING LIVE WITH ALL ORIGINAL MEMBERS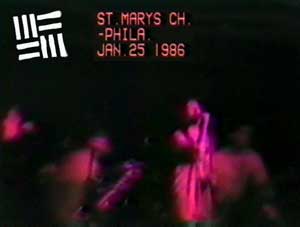 Videos from a Ruin show at St. Mary's on Jan. 25th 1986. Another one of the transfers off of Pete at Drugmusic.com's old Beta Tapes. Hopefully this video will further show why Ruin was the best Philly band ever. It has a good mix of songs from He-Ho and Fiat Lux plus a few that were not on either album. I tried to clear up the video as much as I could I'm not sure if the reddish-pinkish color is from a red stage light or something that happens to old video tapes.
St Mary's was a church on Penn's campus in West Philly so every show there meant a before and/or after trip to Troy's for some underage drinking and an Eggel. (see number 5) I was by there recently and the spot where Troy's was is still empty.
All of these old tapes seem to have it. For more Ruin info check out: Ruin's web page or facebook
Video
Audio files
Some more Ruin releases the first is a flexi disc that came with Terminal Magazine. There are two Ruin tracks and then some other bands (I included all of them here.) The second is the White Rabbit demo tape which came out before Fiat Lux. I didn't have a cover for my tape but I found the picture on the Ruin Discography site Songs of Ruin.
On that site it says the tape is only the cover of White Rabbit but my tape had three songs. That version of White Rabbit was used on the cd.
Here are some quotes from the members of Ruin on this flexi and tape:
"flexi was before heho, before the compilation [proof] recording was done at some small studio if i remember correctly [that was actually someone's attic] I don't remember 13th & samson- i remember the attic first, & later in someone living room studio [proof first recording]" – Richard Hutchins (drummer/percussionist)
"I don't recall who engineered it or where. Obviously it was Ruin's first release. I got a kick out of hardcore punk being on the same disc as experimental abstract music (Furry Couch). Reflected my own schizoid tastes for such sounds.
Thanks again. Please post on Ruin's facebook page when published. Cheers, " – Taum
"Did we record the flexi disk material at the 13th and Samson St. studio? I can't recall. It was prior to the release of the HE HO record if I recall correctly. Terminal magazine was run by Carol Shutzbank and Steve Fritz" – Damon Wallis
Besides that I throw in a couple more tracks one is the version of White Rabbit from Fiat Lux (I figured if you have the cd you might want this version as well) Second is a cover of Hero by Superchunk. It's from an ep called The Laughter Guns EP. I sort of remember hearing that the drummer from Superchunk grew up in Philly and was a fan of Ruin. Besides that I fond some more Flyers, t-shirt picture from the reunion shows, an insert that I found and am not sure where it came from plus this interview from an old zine Rodman Rave click here to view it
I'm working on some Ruin video from a show from 1986 hopefully I will get that up soon.
Thanks to Brett for letting me borrow the flexi.
Terminal Flexi
White Rabbit Demo
Extra mp3's
Get Off My Back is a record that I always thought about buying when I was at Record Exchange or Third Street. But I always found something new to buy instead, until one day it wasn't around anymore. Luckly it was up on the Last Days of Man on Earth blog (Tons of good stuff check it out) so I finally at least could download the songs. So here is the post from that blog.
Get Off My Back – Philly Hardcore Comp (82)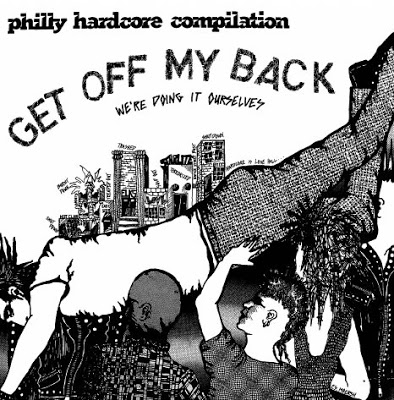 So last Saturday they had their "Legends of Hardcore" show in Philly and it looked like a blast. The lineup was pretty killer and included a couple of my favorite old school Philly HC bands; McRad and YDI. If Ruin was on the bill it woulda been perfect.
First thing you're gonna notice is that YDI played an extra set with special guest vocalist Sab Grey. So yeah…it woulda been an excellent show and I am bummed that Philly was not close enough to drive to (ala Louisville). If I were still living up in Boston…Shit, I woulda been there!
Unlike Boston (or DC or NYC), The Philly scene never got the props it deserved. It had a slew of great bands, a strong scene and was close enough to other big east coast cities to be connected. So why do we not refer to Philly with the same hushed reverence we refer to these other towns?
YDI live in the early 80's
The answer is maybe that Philly did not have as much of an identifiable sound and look as these other towns. It also had no singular independent label to rally around like a Dischord or a Modern Method. It basically just had a slew of great bands, many of whom were featured on this great 1982 compilation. The quality of the vinyl is a little crackly but hey, whatcanyado?
YDI – Enemy For Life, I Killed My Family: YDI were a cool band. They definitely had that mean, gnarly East Coast sound. I Killed My Family is a bit silly but Enemy for Life fuckin' rips.
FLAG OF DEMOCRACY – Murder Castle, Suburban Cowboy: No doubt the best FOD tunes I have ever heard. These tunes blaze! Murder Castle has got a great breakdown. Way better than the FOD track on the flipside comp thats for sure!
BLUNDER BOYS – Conspiracy, I'm Afraid of the Night, Middle Class Morals: Average at best hardcore with a rather annoying singer. Originally went by the name "Crib Death". One of the lesser bands on this comp.
LITTLE GENTLEMEN – No Justice – No Law, No Crime – No Flaw: Another mediocre tune. The Little Gentleman were pretty prolific and went on to release a seven inch and two full length LPs. Another one that doesn't do that much for me.
AUTISTIC BEHAVIOR – TV Messiah, Power Head: Brilliant manic hardcore with a slight Cali edge to it. Power Head reminds me a bit of a real intense Saccharine Trust track. Good shit! Did these guys ever do anything else?
RUIN – Proof, Love Dog: Quality-wise Ruin were head and shoulders above most other bands. I wrote them up earlier so I wont go to into it. These are some of the earliest recorded Ruin tracks and they had yet to develop their fully realized style. Even in their embryonic form, Ruin were a great band though and these two tracks kick off side two with a great jolt of dharma-tinged HC.
INFORMED SOURCES –Right & Wrong, Dense Pack: OK stuff. Kinda west-coastish. The vocals are a little flat but the playing is very tight.
SEEDS OF TERROR – Brain Down, Straightedge: When it first kicked in I thought it sounded like The Urinals! Basically, it has the same production value as the first Urinals 7 inch. Quality-wise the tracks are nowhere near the quality of The Urinals. OK stuff…..
McRAD – Inflation Dub, Ejected: Super early McRad tracks preceeding the Dominant Force EP. Inflation Dub is a great reggae-tinged hardcore track. Ejected is just a classic old school HC track. McRad is still going strong today!
THE HEATHENS – Oohleigh at Great Adventure, My Twin From Hell: Amazing shit. Tight as hell spazz-core. Kinda like a trainwreck between Stark Raving Mad and Deep Wound and the Minutemen. Fuck! Who were these guys?
All in all, this is a super-tight set of US Hardcore made at the height of the moment in 1982. Quality wise, I think it is as good as the Master Tape, Flex Your Head or This Is Boston Not LA. I wonder why it does not have the same reputation as those comps?
Thanks to George for hooking me up with this comp too. I'm hoping that we have some Electric Love Muffin coming soon!
This post is the first of three Philly compilations posts I'm going to try to get up today.
That Was Then This Is Now 7″
This 7″ from Plus Records came out in 1986 and songs by Ruin, FOD, Scram and Electric Love Muffin. If I remember right the picture on the front (see below) was of the torn down Love Hall (Hence the that was then). For 86 this was a good representation of probably the most popular bands in the Philly scene but certainly not all of them. The 7 inch came with a insert that I scanned and you can see below plus stickers which probably went on one of my old skateboards, where it stayed in pristine condition since I was not a very good skateboarder.. Here are the 4 Tracks