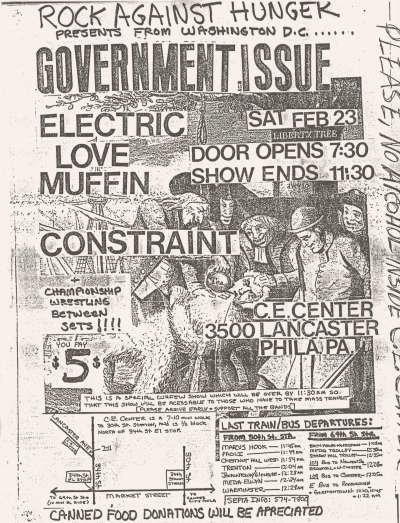 The Muffin live from the CEC in West Philly – A rock against hunger show with Constraint (From Leigh Valley) and Government Issue. This is the last video I have of them – As usual they put on a great show. Some time I will try to get the Constraint and GI video from this show up as well. I'm not sure I have anything else to say about Electric love Muffin since this is my third post on them. I did get asked if I had any video or audio of their cover of Highway Star and I think they started doing that after all the videos I have so if anyone has any more video or live audio please let me know.
Again there are a couple of songs I remember but I couldn't figure out the titles. So, if anyone knows please let me know in the comments. Thanks

Thanks again to Pete at Drugmusic.com. for the beta tapes
Audio files
01 – This Time I'm Gone
02 – American Family & Tomorrow's Regrets
03 – ? & One Year Removed & I Should Have & ?
04 – I Don't Mind & Look For Me
05 – NorwegianWood
MediaFire Zip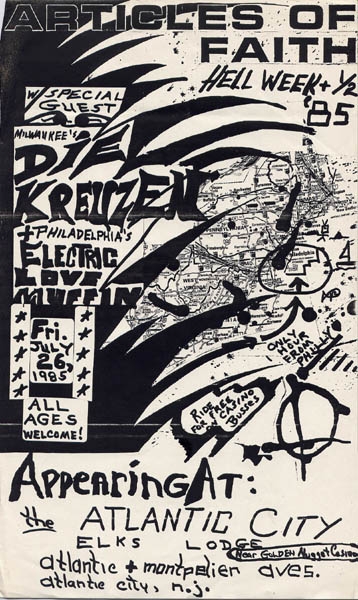 Video from an Electric Love Muffin show at the Elk's Lodge in Atlantic City. The show was on July 26, 1985 and they were opening for Die Kreuzen and Articles of Faith. I was never at any of the Atlantic City shows but from what I've heard (and now watched) it looked like a good venue. Lenny and Crunch Productions always put on good shows. This video is from a bunch of videos I borrowed and converted from Betamax tapes from Pete at Sounds of Tomorrow So keep in mind this video was captured from a 25 year old Beta tape. I'm not sure if it the tape or the camera at the time put Rich gets kind of washed out when he is in the spotlight. Hopefully I got the song titles right besides their normal cover of Norwegian Wood – during a string break on Butch's guitar they do Bad Moon Rising and the Who's I don't Mind. I'm not sure what the last song is it sounds familiar but I can't figure it out. Also, here is an old zine article about touring with the Muffin from Free TNT zine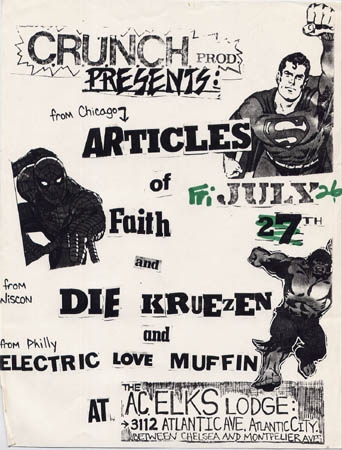 Audio Files
01-Backstreet Ride

02-16 Years Old

03-In Your Face

04-Blackness That Could Be Blue

05-44 Ways

06-This Time I'm Gone

07-Tomorrows Regrets

08-One Year Removed

09-Bad Moon

10-I Don't Mind

11-I Should Have

12-Muffin March

13-Norwegian Wood

14 ?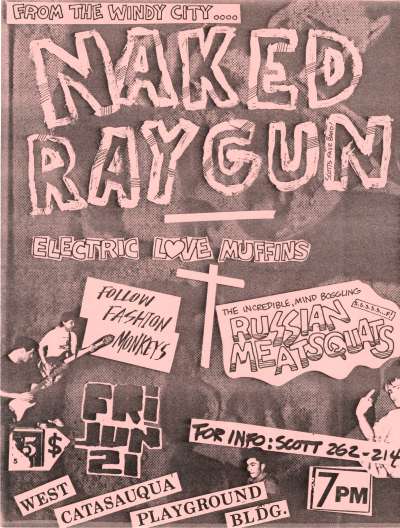 Besides Scram I don't think there is another band that I have seen as many times (or ever will) as Electric Love Muffin. For the first two years I lived in Philly I saw them (and usually Scram) it seems like at least once a week. I think my memory might be right this time. The very first show I saw in Philly they played with NOTA – the show got broken up by the cops but then Scram was playing at another party in West Philly later so, the trend of seeing both bands started on my first night of shows in Philly. I'm not sure why but the venue that sticks out for me was seeing them at Tops which was the space above McGlinchey's. Probably because their rules on carding where somewhat lax at the time (although I might have been straight-edge at the time so who knows.). Electric Love Muffin were always fun to see and they would throw in some great covers like Highway Star (often with guest singers), Venus and Norwegian Wood. I always thought their sound seemed influenced by Minneapolis bands like Huskers and Soul Asylum (Pre-MTV days). As far as I can tell from searching the web none of their records are currently available to buy so I'm putting them up here.
There isn't much on the web about them but they do have a My Space page at www.myspace.com/betterstartrunning
UPDATE: There are a couple of bands with members of ELM now playing out. An upcoming show has two of them Poppy & Foxy Contin March 13 2020 with DJ Major Luke at Kung Fu Necktie
Brian is in two current bands Poppy with Kate Campbell (Guitar & Vocals) & Craig Heim from Scram (Drums) & Brian Campbell (Bass & some vocals) Check out their new album at bandcamp. & Mt Vengeance which is Rich Fravel (Uptown Bones, Ashtabula, Latimer) – guitars and vocals & Brian Campbell – bass & Nick Santore – drums
Foxy Contin is Rich Kaufmann- Guitar plus Vox & Michael Stifel- Bass plus Vox
& Ravine Vaneer- Guitar plus Vox & Michael Barndt- Drums minus Vox
Playdooh Meathook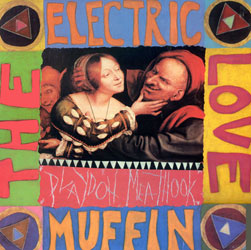 A1-Backstreet Ride
A2-I Should Have
A3-Look For Me
A4-Norwegian Wood
A5-This Time Im Gone
B1-Blackness That Could Be Blue
B2-The Muffin March
B3-One Year Removed
B4-Tomorrows Regrets
B5-Magna Opus
Rassafranna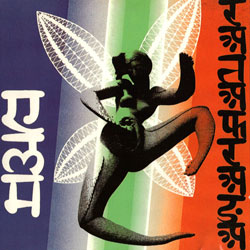 01-Sperm Of The Moment
02-Diamonds & Glass
03-Islands In The Sun
04-Drunk & Horny
05-I Aims To Please
06-Club Car
07-Venus
08-Late Nights, Early Mornings
09-June
10-It's Just Me (And Me Alone)
11-Down Easy
12-Trilogy
13-Meet Me This Afternoon
14-The Revolution Comes To North Street
15-44 Ways [cd only bonus track]
16-Hound Dog [cd only bonus track]
17-Revolution #9 [cd only bonus track]
Second Third time Around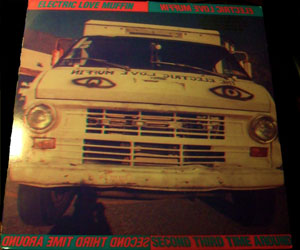 A1-ABetterSong
A2-UnderCandyBridge
A3-MyRightYourLeft
B1-AnotherPlease
B2-WhatWeTalkAbout
B3-MrSoftysWildRide
B4-GetReady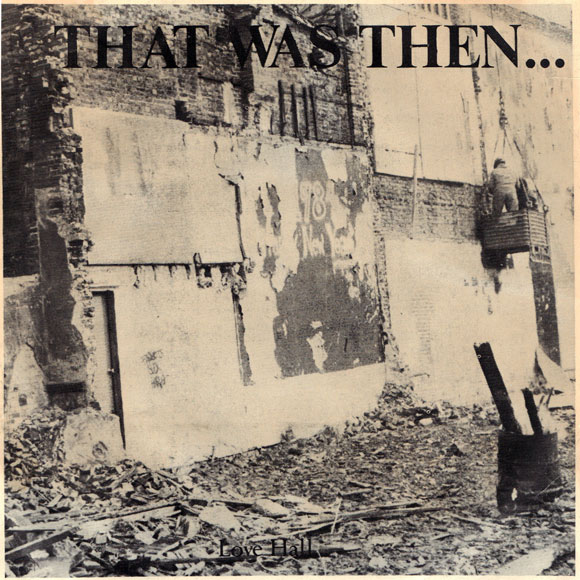 This post is the first of three Philly compilations posts I'm going to try to get up today.
That Was Then This Is Now 7″
This 7″ from Plus Records came out in 1986 and songs by Ruin, FOD, Scram and Electric Love Muffin. If I remember right the picture on the front (see below) was of the torn down Love Hall (Hence the that was then). For 86 this was a good representation of probably the most popular bands in the Philly scene but certainly not all of them. The 7 inch came with a insert that I scanned and you can see below plus stickers which probably went on one of my old skateboards, where it stayed in pristine condition since I was not a very good skateboarder.. Here are the 4 Tracks
Ruin-By The By
Electric Love Muffin-Club Car
Scram-Something To Cling To
F.O.D.-Meat Factory